Michael Hakimi
Born in Eutin, Germany
Lives and works in Berlin
•
In the work of Michael Hakimi, what may look like a vocabulary standard to much of current art production (...) is used not as mere technique or for formal adornment, but in order to create complex and personal investigations, opposing official politics with street wisdom and wit, shifting between vernacular and high-brow culture, and effecting short-circuits between remote cultures and eras. Precisely choreographed, darkly beautiful and hiding meaning rather than indulging in full exposure, these defiant and sensitive works are like celestial orbs that can be found hanging in a storefront window.
(taken from "The Moon and Small Change" by Adam Szymczyk, Published in Michael Hakimi, 2008)
•
SOLO EXHIBITIONS
2013
Nuts should chew themselves!; Galerie Mezzanin, Wien
If the phone doesn't ring, you know it's me; Krome Gallery, Berlin
2012
Concierge d'Amour, rstr#, München
2011
Nonpaper, Galerie Karin Günther, Hamburg
A-ZZZ, Stadtgalerie Schwaz, Tirol
Solo at About Painting, ABC, Berlin
2010
Connecting the Dots, Galerie Mezzanin, Wien
Münzen und Bronzen, Overbeck Gesellschaft, Lübeck
Blasen, Center, Berlin
2009
Neocoins, MaryMary Gallery, Glasgow
Temporäre Kunsthalle, Projektraum, Berlin
Newsblast, Krome Gallery, Berlin
2008
The Adventures of a Mystic Cat, Art Statements, Art Basel 39
2007
ROOF, Kunsthalle Basel
Andrew Kreps Gallery, New York, with Ellen Gronemeyer
2005
RuineTV, Galerie Karin Günther, Hamburg
2004
Der große Ofen, Kunstverein in Hamburg
2003
Am Zaun, Galerie Borgmann Nathusius, Cologne
2002
Die geteilte Oase oder The Story of Our Flag, Galerie Nomadenoase, Golden Pudel Club, Hamburg
2001
Was wir nicht aufessen, läuft uns hinterher, Galerie Karin Günther, Hamburg
1998
Pavillon, Galerie Nomadenoase, Golden Pudel Club, Hamburg
1997
Out of the Farmland, into the Grid, Hochschule für bildende Künste, Hamburg
SELECTED GROUP EXHIBITIONS (* PUBLICATION)
2014
Bild und Anpassung (Image and Adaption), Palais für aktuelle Kunst Glückstadt (Germany)


2013
Item Perspectiva - Von flüssigen Stammbäumen im Geröll der Vernetzung: ein Familienporträt, Espace Beaumont invites Krome Gallery, Luxembourg
Nuage, Musée Reattu, Arles
Material Conceptualism, Galerie Aanant & Zoo, Berlin
2012
Bel Etage: Was ist ist!, Manifesta 09 Parallel Event, Genk Belgium
Bel Etage: In the Shadow of the Sun, Kunstverein at L40, Berlin
Friends and Lovers in Jesterburg, Kunsthaus Jesteburg
2011
Zeichnung?, Kunstverein Nürnberg
Moraltarantula 5, Oberhafen, Hamburg
2010
Laokoon II, Coco, Vienna
10 Jahre, Galerie Karin Günther, Hamburg
Ne vivre jamais, Dial im Elgarafi, Berlin
Villa Reemtsma, Hamburg
2009
Spoils & Relics, Approach Gallery, London
Dark Side of the Moon, Galerie Martin Janda, Vienna
Tehran-Frankfurt-Tehran, Mahe Mehr Gallery, Teheran *
2008
Im Lichte milder Verklärung, Galerie Kienzle & Gmeiner, Berlin, curated by Claudia Kugler
Horsbit Cocktail, Galerie Dennis Kimmerich, Düsseldorf, curated by Christabel Stewart
THR-FRA-THR, Mousonturm, Frankfurt am Main
2007
The Broadway Syndrome, Centre d'Art du Parc St Léger, Pouges les Eaux, curated by Le Commissariat
Curacion Geometrica, The Reliance, London
Final Exhibition, Flaca, London
Le Nuage Magellan, Centre Georges Pompidou, Paris, curated by Joanna Mytkowska *
Artist-Books, Space Other, Boston
2006
Art and Fiction, Besiktas Cagdas, Istanbul, curated by Halil Akdeniz & Manuel Graf *
How Does It Make You Feel?, Galerie Iris Kadel, Karlsruhe
All dressed up with nowhere to go, Galerie Sorcha Dallas, Glasgow, curated by Anke Kempkes
2005
Exile, New York is a good Hotel, Broadway 1602, New York
It takes some time to open an Oyster, Centro cultural Andratx, Mallorca, kuratiert von / curated by Yilmaz Dziewior
Ars Viva 04/05 – Zeit, Zacheta Museum, Warschau / Warsaw, und / and Kunstverein für die Rheinlande und Westfalen, Düsseldorf *
2004
Der Müllberg, Galerie Daniel Buchholz, Köln / Cologne
Black Friday, Galerie Joanna Kamm, Berlin, kuratiert von / curated by Christoph Keller
Ars Viva 04/05 – Zeit, Kunsthalle Mannheim *
2003
10, Kunsthaus, Hamburg *
Reisefreiheit, Kunsthaus, Hamburg, kuratiert von / curated by Rita Kersting *
2002
rraum 02, Frankfurt am Main, auf Einladung von / invited by Manifesta 4
Metropolitan, Galerie K. Günther, Galerie J. Becker, Hamburg, Galerie Borgmann Nathusius, Köln / Cologne
Zusammenhänge herstellen, Kunstverein in Hamburg *
Landschaft 300 qm, Hohenzollernstr.113, München / Munich
1999
Akademie Isotrop, Galerie Daniel Buchholz, Cologne, and Galerie Hoffmann & Senn, Vienna
Akademie Isotrop, Revolution, Evolution, Exekution, Gesellschaft für Aktuelle Kunst, Bremen
1998
Echopark, Mission, Hamburg
Osygus, Produzentengalerie, Hamburg
Akademie Isotrop, Reality Investment, Ulm
Akademie Isotrop, Verschiedene Gebiete, Contemporary Fine Arts, Berlin
* Publications

GRANTS
2010
Artist in Residence Programm der Lenikus Sammlung, Wien
2004
Ars Viva, Förderpreis Bildende Kunst des Kulturkreises der deutschen Wirtschaft im BDI e.V
2003
Arbeitsstipendium der Stiftung Kunstfonds
2002
Arbeitsstipendium für bildende Künstler der Stadt Hamburg
Reisestipendium des Vereins für Neue Kunst in Hamburg e.V.
Newsblast
Installation view, Krome Gallery, Berlin, 2009

Newsblast
Installation view, Krome Gallery, Berlin, 2009
Newsblast
Installation view, Krome Gallery, Berlin, 2009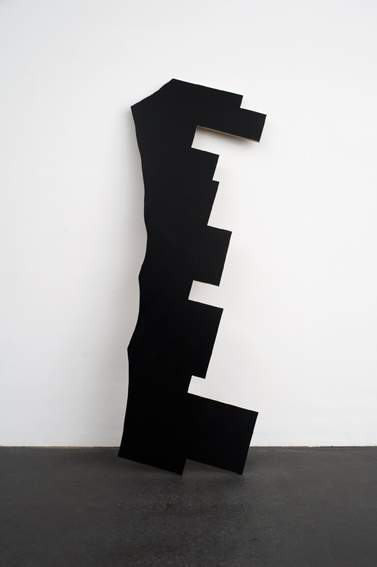 Capital A
2009
MDF, Lack MDF, lacquer
190 x 90 x 30 cm
Einsame Masse (Lonely Mass)
2009
Beton / Concrete
60 x 66 x 8 cm
Aftermath
2009
MDF, Lack / MDF, lacquer
207 x 139 x 37 cm
Newsblast
Installation view, Krome Gallery, Berlin, 2009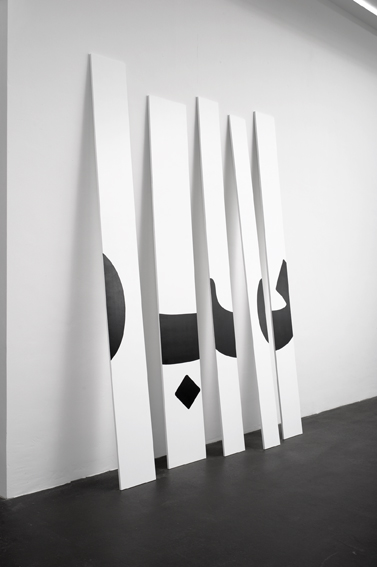 B-Fence
2009
MDF, Lack / MDF, lacquer
ca. 280 x 190 cm
Resonance
4 Silhouettes of oriental drums (Tombak, Daf, Djembe, Darbuka ) on the Rooftop of the Gallery building in Karl Marx Allee, the former Stalinallee and
parade-boulevard of the GDR
Public space Installationa in Collaboration with Krome-Gallery Berlin,  2008
And To You I Say: The Night Is Darkest Before Sunrise
2009
Cotton, spray paint
163 x 133 cm
Resonance
4 Silhouettes of oriental drums (Tombak, Daf, Djembe, Darbuka ) on the Rooftop of the Gallery building in Karl Marx Allee, the former Stalinallee and
parade-boulevard of the GDR
Public space Installationa in Collaboration with Krome-Gallery Berlin,  2008